Chemical dosing systems are used to automatically inject chemicals into chemical feed tanks for water wastewater treatment. During the dosing process, chemicals are added to the water stream at a precisely controlled rate by dosing pumps.
KUOSI chemical metering systems offer pre-engineered and fully customizable water treatment equipment. They can be used effectively in industrial and municipal water treatment processes. For example when used to disinfect drinking water or as part of a chemical scrubber system. Compact and lightweight pre-packaged skids, corrosion resistance, flexibility of metering pump options and ease of maintenance are some of the advantages of our chemical feed systems. Water treatment applications include disinfection, fluoride treatment, sulfuric acid dosing, sodium hypochlorite systems, dispersant polymer dosing, sodium hydroxide feeding, potassium permanganate dosing, coagulation and flocculation, hydrochloric acid dosing, alum feeding, ph neutralization and scale inhibitor addition.
How does chemical dosing system work?
The chemical dosing device is assembled on a public platform with metering pump as the main dosing equipment, dissolution tank, agitator, liquid level meter, safety valve, check valve, pressure gauge, filter, buffer, pipeline, valve, base, escalator, automatic monitoring system, electric control system, etc. according to the process needs, forming a module, which is called skid-mounted combined unit.
It adopts the form of electromechanical integration structure, and can be divided into fixed and mobile (trolley type) from the installation, and each form of dosing unit is equipped with mixing system, dosing system and automatic control system. Several fixed skid-mounted units can be combined into a whole, together with frequency control system, which can realize local control, remote automatic control, manual and automatic interchangeable dosing.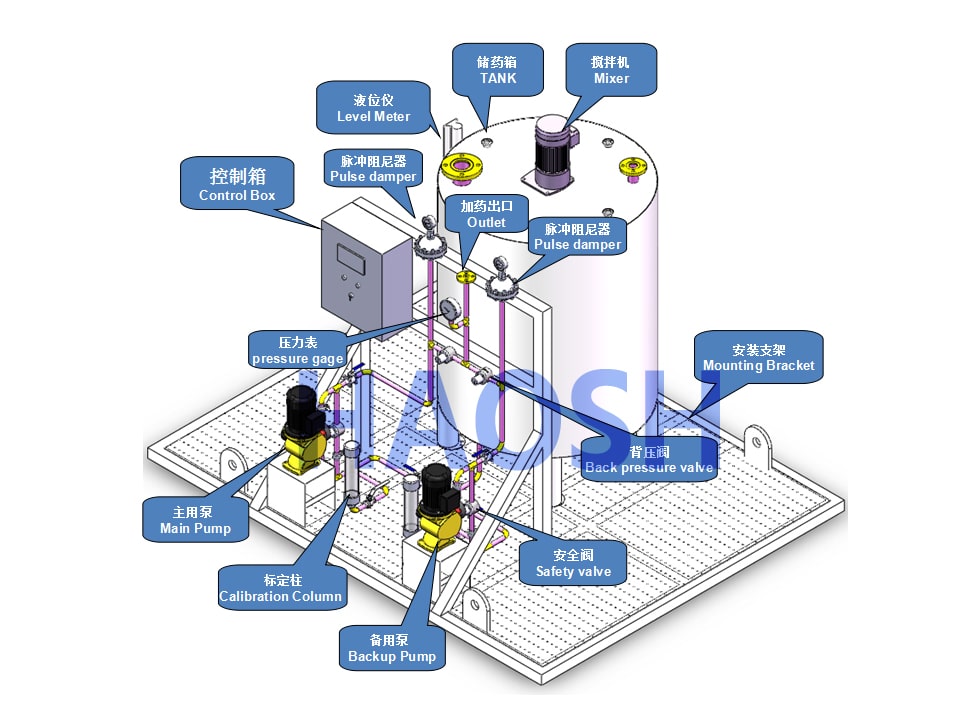 KUOSI is a manufacturer and supplier of chemical dosing systems in China. We can customize dosing systems to suit your application. Contact us for quotation.
Features
Reliable metering performance. Guided check valves with proven seat and ball designs make our chemical metering pumps the most reliable metering pumps available.
Rated for continuous operation, KUOSI industrial pumps will continue to meet their pressure and capacity specifications during long periods of use.
No leaks, no seals on the wet end. Diaphragms feature superior construction, Teflon faces, bonded to a composite of Hypalon and fabric layers, and reinforced with metal inserts.
Advanced electronics. Our timing circuits are highly reliable and designed to be virtually immune to temperature, EMI and other electrical interference. All electronics are O-ring sealed for water resistance.
Pump a variety of chemicals. Fluid end materials include glass-filled polypropylene (GFPPL), PVC, polyvinylidene fluoride (PVDF), fluoroelastomer, ceramic, alloy, and 316SS.
Safe and easy to start. Drain valve assembly bypasses chemicals back to the source during filling and allows the injection line to be drained prior to servicing.
Applications
pH control and regulation
Coagulants
Cooling tower biocides
Boiler feed chemicals
Disinfectant
Softening agents
Odor control
Chlorination and dechlorination
Various custom chemical dosing systems