Water Treatment Disinfection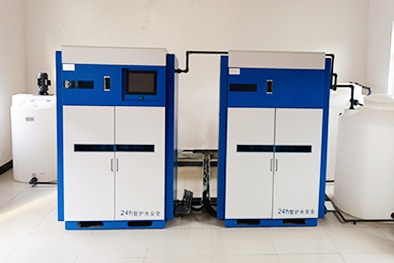 What is disinfection in water treatment?
Disinfection is usually the final stage of the water treatment process to limit the effects of organic matter, suspended solids and other contaminants. Disinfection is used to remove pathogenic microorganisms from water. Please note that disinfection is not the same as sterilization (sterilization is the destruction of all bacteria present in the medium), so some common bacteria may remain in the water after disinfection.
Methods of Water Disinfection
The primary methods are ozone, ultraviolet irradiation (UV) and chlorine. There are a number of alternative disinfection processes that are more commonly used in medium to large water treatment systems, including chlorine dioxide, potassium permanganate, sodium hypochlorite, chloramine and peroxone (ozone/hydrogen peroxide).
Chlorination
A common and relatively inexpensive method of water disinfection is chlorination, in which a chlorine or hypochlorite solution is added to the water. This method kills disease-causing microorganisms, including bacteria and certain viruses, but not the protozoan Cryptosporidium, as well as some other microorganisms. The process also removes some unpleasant odors. Chlorine and chloramines are the primary disinfectants used in public water systems.
Water can be chlorinated in two ways.
Shock chlorination is the addition of a strong chlorine solution to a well or pumped into a piping system to kill microorganisms in a single pass. Impact chlorination is often recommended when building, repairing or installing new pumps to kill bacteria that may be present on the piping or installation equipment.
Continuous chlorination is the process of continuously adding chlorine to water for domestic use via a chemical feed pump. This system is needed when the source of bacteria in the water cannot be eliminated and recurring bacterial contamination is encountered even after several shock chlorination treatments. Continuous chlorination is a point-of-entry treatment method that provides residual disinfection throughout the home water distribution system. It is used by virtually all public (city or county) water systems, often in combination with other systems.
Sodium hypochlorite generators produce low strength disinfectants on demand through the electrolysis of brine solutions….
Ultraviolet (UV) light
Low-pressure mercury arc lamps that emit ultraviolet light are used to kill pathogens in the water. The main advantage of UV treatment is that it disinfects water without the use of any chemicals. Since some waterborne pathogenic microorganisms are resistant to chlorine. For example, viruses, parasites and bacteria that can cause hepatitis, gastroenteritis, cryptosporidiosis and Legionnaires' disease, UV treatment is particularly useful in this regard.
Although UV treatment is an effective disinfectant, disinfection occurs only within the unit. Disinfection does not occur outside the treatment unit to kill microorganisms that survive or are introduced into the system after UV treatment. If residual disinfection is required, chlorination may be needed as a supplement or alternative to UV treatment.
Ozonation
By disinfecting water with ozone, the ozone produced by electricity kills bacteria and certain other pathogens. Ozone generators are relatively expensive to install. Unlike chlorination, ozone does not have any residual disinfection effect on the water.
Ozone may not kill large encapsulations and some other large organisms such as worms, so they should be eliminated by filtration or other procedures prior to ozone treatment. When used in combination with activated carbon or mechanical filters, ozone will oxidize and precipitate iron, sulfur and manganese. Ozone can also be effective in eliminating or controlling color, taste and odor problems.
The solubility of ozone in untreated water also affects treatment. The lower the temperature of the water, the more ozone is dissolved in the water. Ozone works over a wide range of pH values, but is more effective at pH values slightly above 7. Ozone demand is related to the level of contamination in the water, as other substances in untreated water can also react with ozone and deplete some of it. ozone, leaving less ozone available to treat the target contaminant. For proper disinfection, the color and turbidity of the water to be treated must be negligible. Ozone treatment systems can also be very energy intensive.
Ozone generators are designed for laboratory and research in water, medical, chemical and industrial research and wastewater treatment facilities. It can be used in chemical research…
How does disinfection work?
Chemical inactivation of microbial contamination in natural or untreated water is usually one of the last steps to reduce pathogenic microorganisms in drinking water. The combination of water purification steps (oxidation, coagulation, sedimentation, disinfection, filtration) makes the water safe after production. Many countries use a second disinfection step at the end of the water purification process to protect the water from microbial contamination in the distribution system. In this disinfection process, one uses a different disinfectant than the one used earlier in the process. The second disinfection step ensures that bacteria do not multiply in the water during the distribution process.
Popular articles
Wastewater is any used water, originating from individuals, businesses, agriculture…