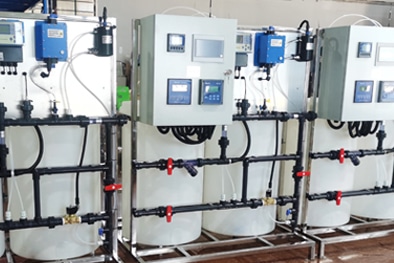 What is chemical dosing?
Chemical dosing is the addition of chemicals to the water/fluid or sludge to achieve the desired conditioning. This will make the treatment effective through various mechanisms, such as charge neutralization, solids settling, etc. This process is also referred to as chemical metering and is a very important part of the water treatment process.
Chemical dosing systems are used to automatically inject chemicals into chemical feed tanks…
Polymer Preparation System is a compact automated metering unit for liquid or powder…
Applications of chemical dosing
Wastewater Treatment
Water purification and pollution control
Scale prevention
Swimming pool treatment
Acid water and
Liquid fertilizer treatment
Coagulation and turbidity removal
Hydroponic nutrient treatment
Food processing
Iron, hydrogen sulfide and manganese removal
Detergent and wetting agent metering
How the stoichiometric process works?
The operator of an industrial wastewater treatment plant determines the chemicals that need to be added to the water and also needs to be constantly aware of what is happening in the treatment plant and adjust the dose level and rate accordingly. For example, if the water needs to be disinfected, the appropriate amount of chlorine is added. Overall, they know the levels of chemicals present in the wastewater and chemically measure them accordingly.
However, manual checks and manual dosing are not applicable in medium to large water treatment plants, and the dosing of chemicals is often done at regular intervals through automated dosing systems, with the entire process monitored by an operator for efficiency. Common dosing systems include chemical dosing systems and polymer preparation systems, the former for the automatic dosing of various chemicals, while the latter is used for the preparation and dosing of various polymer types.